Angels Landing trail, Zion Canyon, Utah: how you feel walking by roof of 150 store building
Kādu nedēļu esam pabijuši pieokeāna pilsētu mudžeklī, kas saaudzis ap Losandželosu. Laikam tādēļ mežonīgie rietumi nāk kā pilnīgi negaidīts pārsteigums. Tiklīdz esam pāri pirmajai kalnu grēdai, tā nav vairs nekā. Ne māju, ne cilvēku, apkārt viens vienīgs tuksnesis. "Welcome to highway country" – skandina kāda radio stacija.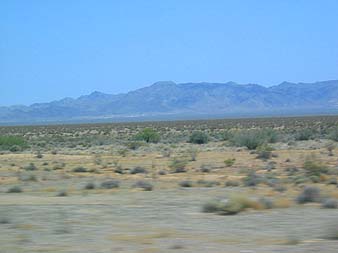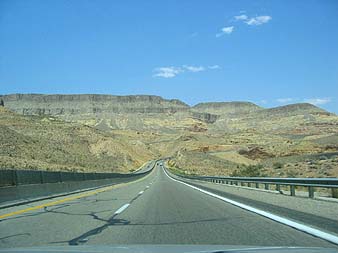 Kaut kāda dzīvība sāk parādīties, nogriežoties no lielā ceļa. Kaut kas saistīts ar indiāņu saražotajiem labumiem. Un tad iebraucam zaļā oāzē – mūsu pirmajā nopietnajā pieturas punktā Zion Canyon.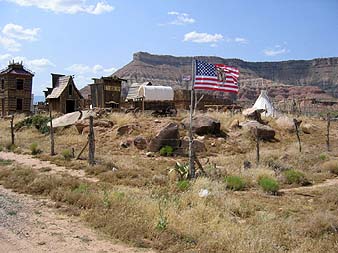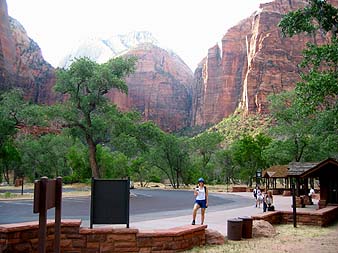 Tā kā esam kanjona apakšā, tad lielākā daļā maršrutu nozīmēs pamatīgu kāpšanu uz augšu. Tādēļ Vakara pastaigai nolemjam kaut ko vienkāršāku – izejam Emaralda taku, kas aizved tikai līdz lielo sienu pakājei. Skati pie augšējā Emaralda ezeriņa ir tiešām iespaidīgi, virs galvas puskilometrīgas sienas, uz leju izsusējuša ūdenskrituma kaskādes.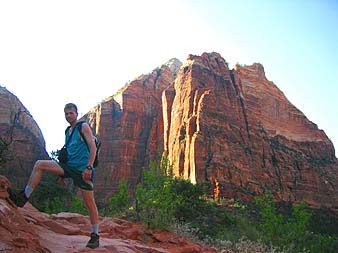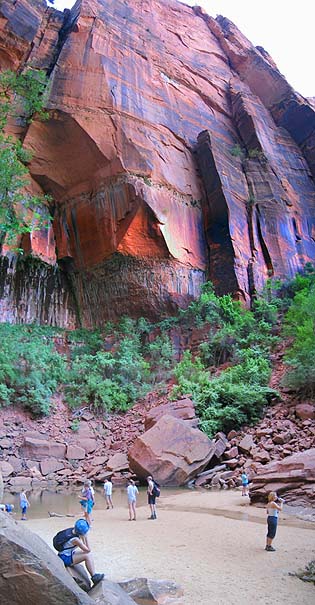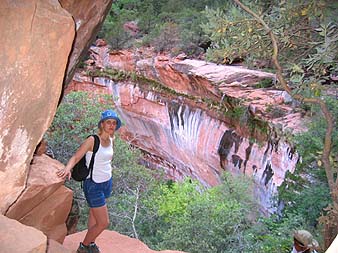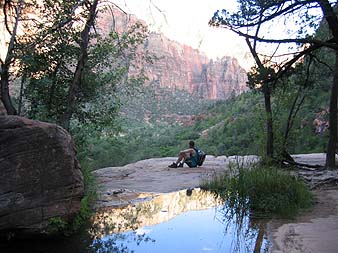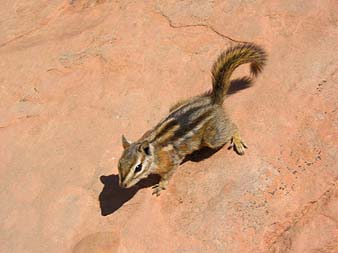 Vāveres. Nekaunīgas un veiklas. Īpaši šīs strīpainās no multenes par ledus laikmetu. Nekautrēsies ieskatīties jūsu somās un teltī.
Savukārt informācijas plāksnes brīdina no kalnu lauvas (mountain lion), kas zīmējumā atgādina pantēru. Ja tāda uzbrūkot, vajagot skaļi kliegt un vēcināt rokas, ja nelīdz, tad iemest ar akmeni. Centīsimies punktuāli ievērot ieteikumus.
Rīts. Esam pie Angels Landing takas sākuma. Enģeļu nolaišanās vieta Zion kanjonā redzama tieši priekšā. Enģeļi izvēlējušies ļoti piemērotu vietu – 1500 pēdu augstu klinšu stabu, kurš palicis vientuļi stāvam kanjona centrā. Kā uz tā uzrāpties?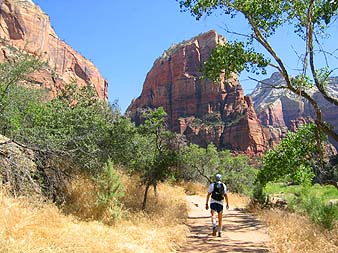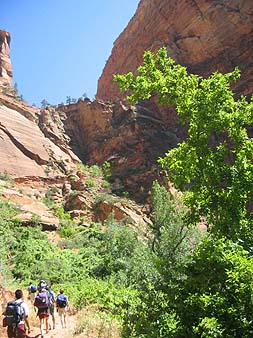 Iesākums labs. Dikti atgādina Nepālu, kur šādas takas vijās starp lielajiem ciemiem.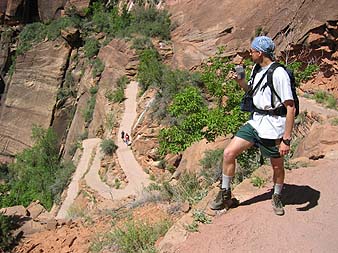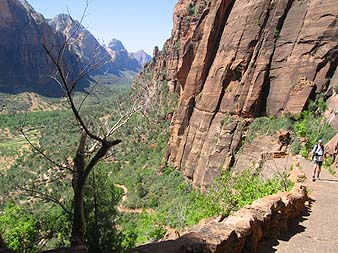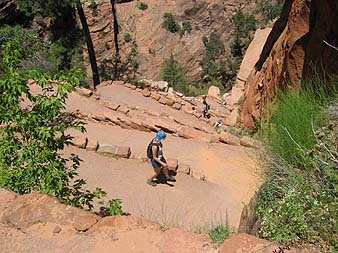 Kad esam veikuši pusi no iecerētā augstuma, nonākam uz lieliskas skatu platformas. Un tikai te varam novērtēt, kāpēc Angels Landing tika minēts pie tehniski sarežģītiem kāpieniem. Izrādās viss tālākais ceļš vedīs pa metru platu korīti ar galvu reibinošiem lidojumiem uz abām pusēm. Tieši šī korīte piesaista akmens stabu kanjona malai.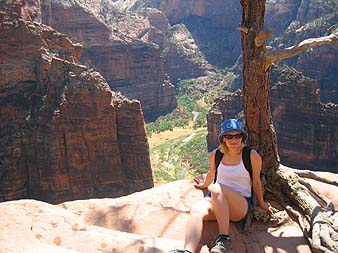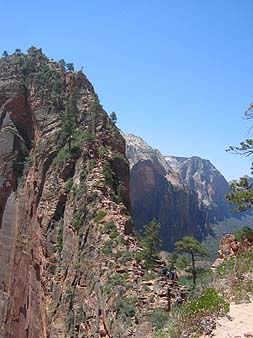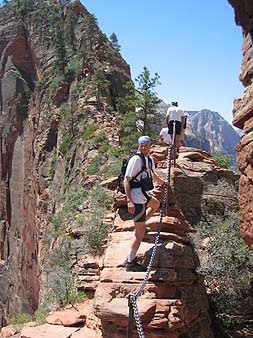 Šinī vietā vērojām, kā skautu vadītājs mēģina uzvest kalnā pāris skautus. Nabaga jaunieši rāpoja pa kori uz visām četrām. Kore ir vismaz kilometru gara.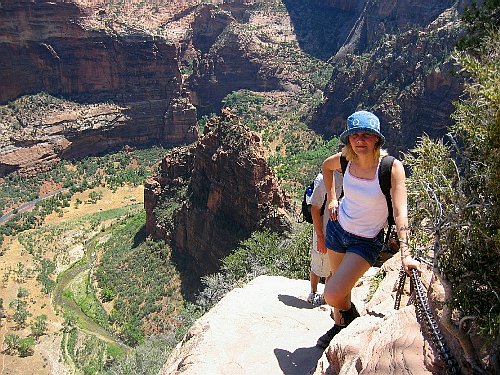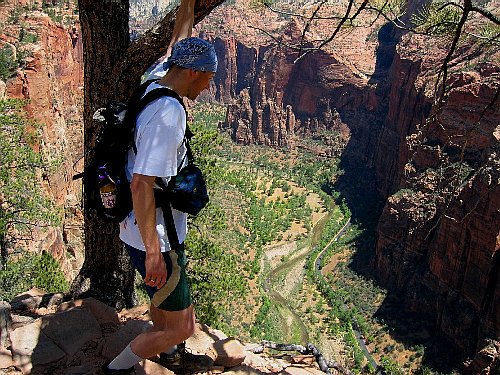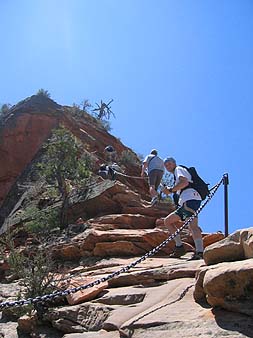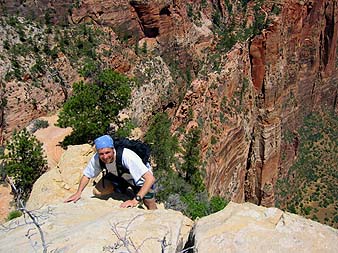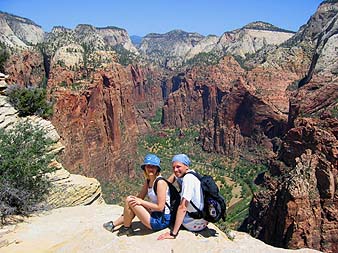 Esam piezemējušies. Zem mums nu ir 500 m pilnīgi vertikālas sienas. Tā pelēkā strīpa apakšā ir parka shuttlebus ceļš. Iznāk tā kā sēdēt uz 150 stāvīgas mājas jumta.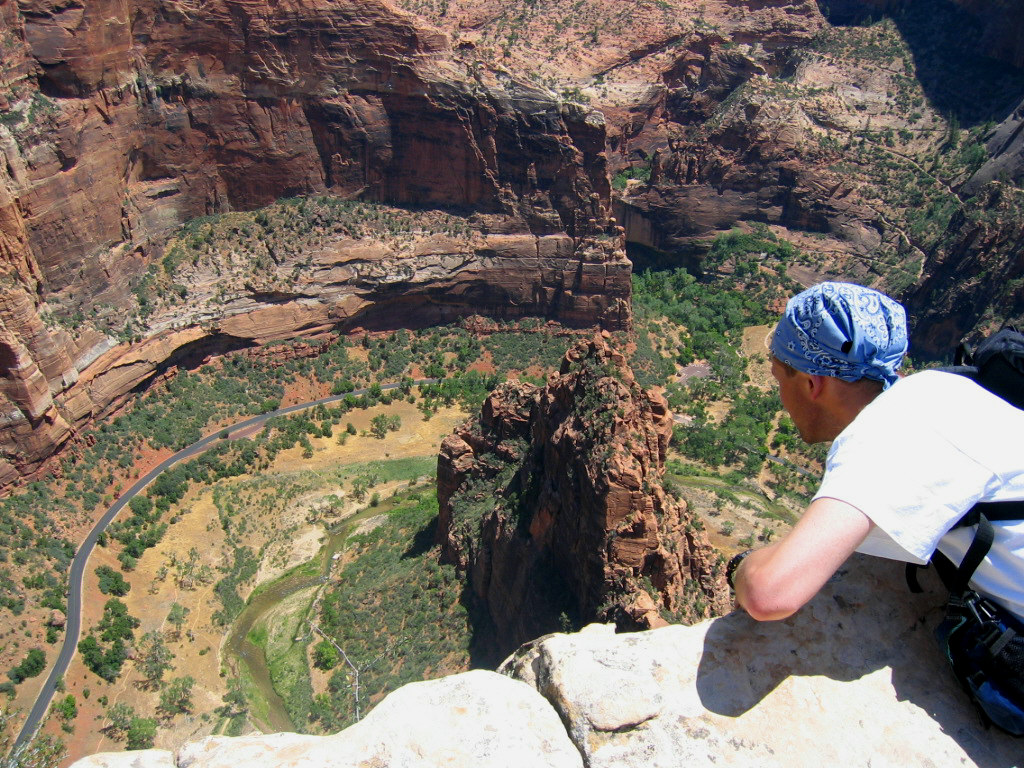 Bet vissarežģītākā vieta uz kores izrādījās tā sauktais Fat-control punkts, kas izveidojies starp klinti un resnu priedes zaru. Apkārt neapiesi – kraujas. Tam cauri netika vesela virkne amerikāņu. Īpaši svarīgi ir šķērsot šo punktu arī lejupkāpjot.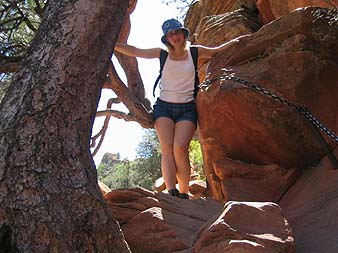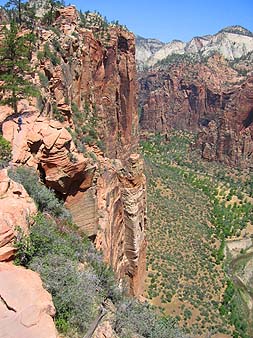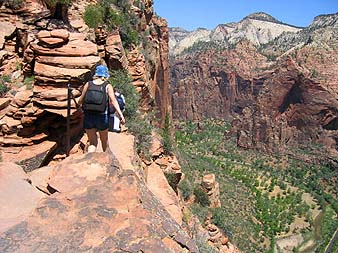 Nu re. Atpakaļceļā no maliņas vēl uztaisu kopējo panorāmu: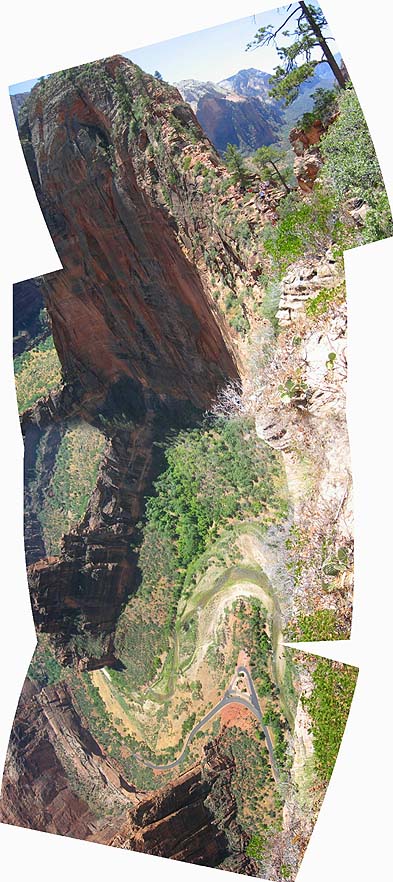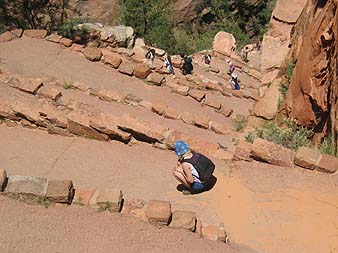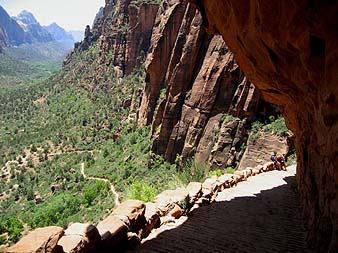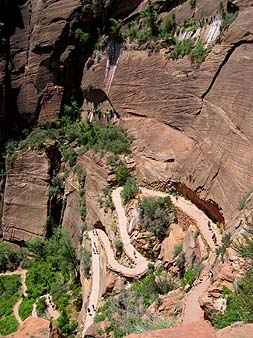 Jānoskrien lejā pa šiem serpantīniem, jāiemērcējas apakšā tekošajā upītē un tad varēs domāt, kā nokļūt mūsu nākamajā punktā – Bryce kanjonā. Ja Zionu veidoja t.s. baltās klintis, tad Bryce, kas veidojies Kolorado plato vienu līmeni augstāk, solās būt sārto klinšu valstība. Skatīsimies!
Related posts: